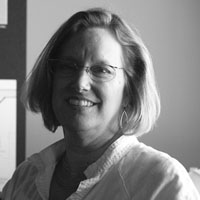 Carol Tink-Fox
Vice President / Architect / Interior Designer
Carol is a licensed architect in both California and Oregon, and has been based in Southern California for over 20 years. She cofounded Stratos Form in 1998, where she focuses on design for offices and high-end residential projects.
Her adventurous spirit grew up in college at Cal Poly, San Luis Obispo where she participated in the International Program in Denmark, allowing extensive travel and exposure to European architecture and product design. After graduating with a Bachelors of Architecture degree, she has translated these interests into a thirst for adventurous design opportunities. Her early career was spent in Laguna Beach, giving her a strong foundation in designing for challenging sites including steep hillsides, unique soils conditions and complex regulatory environments.
What makes Carol unique among many architects is how she has expanded her skill set since getting licensed by working a summer in construction, working for an engineer to learn engineering of lightweight framed structures, and obtaining her interior design certificate through NCIDQ. Teaching architecture to Interior Design students for 22 rewarding years at the Interior Designers Institute has provided a venue for exploring design theories. These are skills she brings together to benefit her clients.